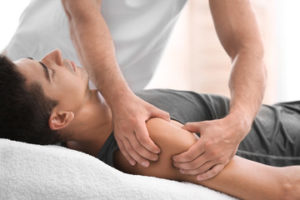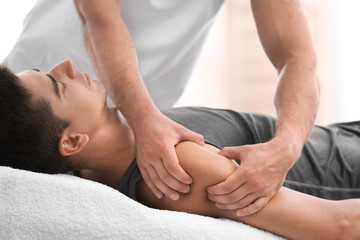 Therapeutic Massage therapy is a great tool to help you on your road to recovery and general wellness. Massage can help decrease stress, pain, and muscle tension, increase circulation and range of motion, promote faster recover from injuries, and encourage mind-body connection and awareness. Therapists press, rub, and otherwise manipulate the muscles and other soft tissues of the body. The types of massage therapy we offer are deep tissue, myofascial, pregnancy (pre/postnatal), sports massage, trigger point, stretching, and neuromusclular.
Massage therapy is done in office either with or without a prescription from one of the doctors. Our therapists are licensed clinical massage therapist through the state of Illinois and have taken numerous post graduate courses in advanced massage therapy techniques.
Advanced massage techniques are a useful adjunct to one's health plan to promote healing and maintain health. Massage is useful for many conditions, including chronic pain, soft tissue injuries and stress reduction. Clinical massage therapy can also benefit patients with postoperative edema, reduced range of motion and nervous system problems.
Is massage therapy good for chronic pain?
Yes. Lots of our patients use massage therapy for long term, chronic pain. Most patients with chronic pain see a combination of massage therapy and the chiropractor.
Does massage therapy help with recovery?
Massage therapy can help with recovery after a long run, tough workout, or race. Many of the techniques our therapists use are for lymphatic drainage, myofascial release, and passive stretching methods which are great for recovery.
Should pregnant women get massage?
Yes. Massage therapy during pregnancy has been shown to provide many benefits, including a sense of wellness, improved relaxation, and better sleep.
---
Frequently Asked Questions
How frequently should I get a massage? 
The frequency of your massage therapy appointments will vary based on your treatment goals. This is something you will discuss with your therapist and doctor at your appointment.
Does getting a massage hurt? 
Massages are not designed to hurt. Sometimes working within an area that is sore or if you are getting a deep tissue massage, you may experience a little discomfort. If you do feel pain while getting a massage, let your therapist know.
Why is getting a massage so important to overall wellness? 
Aside from reducing pain, massages offer so many benefits, such as relieving stress, promoting relaxation, increasing energy, improving circulation, and more. As a result, patients may experience lower blood pressure and heart rate – and begin feeling an overall sense of wellness.
When should I avoid getting a massage? 
Most of the time, getting a massage is beneficial. There are, however, a few situations where you may want to postpone your massage to a later date. These include:
If you are sick or feverish
Have a contagious skin condition
Those in their 1st trimester of pregnancy
Currently getting chemotherapy (or any such treatments)
If you aren't sure whether you should get a massage, talk to your chiropractor, massage therapist, or primary care doctor before booking.