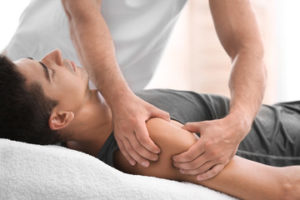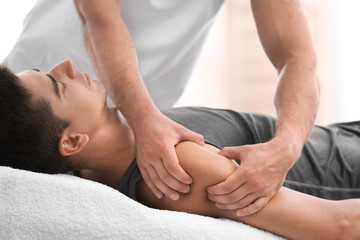 Therapeutic Massage therapy is a great tool to help you on your road to recovery and general wellness. Massage can help decrease stress, pain, and muscle tension, increase circulation and range of motion, promote faster recover from injuries, and encourage mind-body connection and awareness. Therapists press, rub, and otherwise manipulate the muscles and other soft tissues of the body. The types of massage therapy we offer are deep tissue, myofascial, pregnancy (pre/postnatal), sports massage, trigger point, stretching, and neuromusclular.
Massage therapy is done in office either with or without a prescription from one of the doctors. Our therapists are licensed clinical massage therapist through the state of Illinois and have taken numerous post graduate courses in advanced massage therapy techniques.
Advanced massage techniques are a useful adjunct to one's health plan to promote healing and maintain health. Massage is useful for many conditions, including chronic pain, soft tissue injuries and stress reduction. Clinical massage therapy can also benefit patients with postoperative edema, reduced range of motion and nervous system problems.
Is massage therapy good for chronic pain?
Yes. Lots of our patients use massage therapy for long term, chronic pain. Most patients with chronic pain see a combination of massage therapy and the chiropractor.
Does massage therapy help with recovery?
Massage therapy can help with recovery after a long run, tough workout, or race. Many of the techniques our therapists use are for lymphatic drainage, myofascial release, and passive stretching methods which are great for recovery.
Should pregnant women get massage?
Yes. Massage therapy during pregnancy has been shown to provide many benefits, including a sense of wellness, improved relaxation, and better sleep.